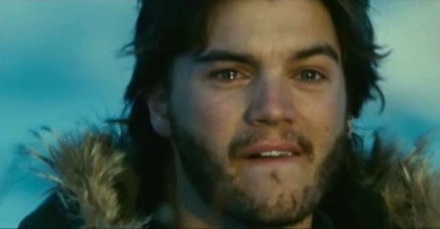 "Many of you probably know Sean Penn as an actor, but he's been directing flicks since 1991. His latest, Into the Wild stars Emile Hirsch as a young, idealistic kid who abandons life as most of us know it for the Alaskan wilderness. Based on the bestseller by Jon Krakauer, and inspired by a true story. The movie also stars Vince Vaughn, Catherine Keener, Kristen Stewart, William Hurt, and Marcia Gay Harden."
Here's a synopsis of the story:

"Freshly graduated from college with a promising future ahead, 22-year-old Christopher McCandless (Emile Hirsch) instead walked out of his privileged life and into the wild in search of adventure. What happened to him on the way transformed this young wanderer into an enduring symbol for countless people. Was Christopher McCandless a heroic adventurer or a naive idealist, a rebellious 1990s Thoreau or another lost American son, a fearless risk taker or a tragic figure who wrestled with the precarious balance between man and nature?"
Check out the movie's website-it looks amazing. I also want to read the book .

The buzz is that it can change your whole outlook on life.

"Into the Wild" will be in theaters on Friday, September 21st.