I thought I'd hold off on posting until Monday, but since it's almost Black Friday, I had to give you some shopping info.
First off,
Preppy Player
directed my attention to this
J. Crew Long Boyfriend Blazer
and the minute I saw it, I loved it. At $215 I thought I'd wait until Christmas and get it as a gift. (Although J. Crew is having a 20% off sale this weekend, so you can get it for $175.)
But then, I saw this...
...at Ann Taylor Loft.
The Bi-Stretch wool blazer
for $128. This blazer is almost IDENTICAL to the J. Crew one. The only difference I saw was the thin belt that came with it, which I hated, so I threw it away. The day I bought this Loft was having a 30% off sale, so I snagged this baby for less than $90. (Sorry the picture is so small, it's all I could get.)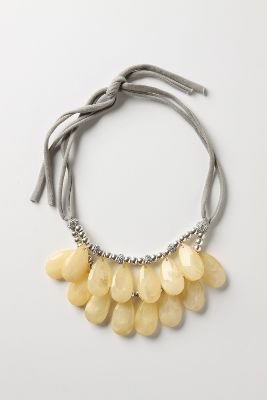 Next up, jewelry. I have been eyeing up this
Anthroplogie Stormy Sea
necklace for quite some time. My friend Jenny has it in the Sea Foam version. (No longer available) and I love the way it looks on her.
Then I saw
NieNie
wearing it on The Today Show and I had to have it. I went into Anthropologie and tried on the latest version in this cream color. Bummer. It looked stupid on me. Some people remove a couple of stones from the ends and they say that can make a difference. You might try that.
What I
did
find was
this necklace. The
Anthroplogie Radiant Necklace.
It comes in this gorgeous berry color, and an awesome pale slate blue.
It was so hard to decide, but since I could only get one, I went with the slate. It was on sale for $28, on-line it's still $48, so I guess I got lucky!!
I might go back for the berry in a few weeks.
So there you have it. If you are out and about this shopping weekend, take a trip to Ann Taylor Loft, J. Crew and Anthropologie. Compare and contrast these items, and then let me know how it all turned out for you.

In return, I hope you will let me in on any of your latest fashion finds.
We fashionistas need to look out for eachother! (Yeah, that's right, I called myself a fashionista...you got a problem with that?)