I'm going to Florida tomorrow and I was at Marshall's looking for cute sneakers to wear with capris to Epcot. (Easier said than done.)
As I approached the checkout I noticed a shelf full of Jelly Belly Sugar-Free jelly beans. It was one day post detox so I decided to give myself a treat.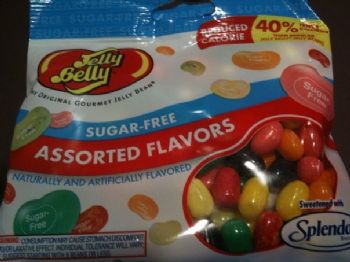 Then I noticed the warning label: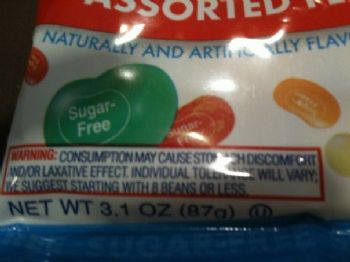 Start with 8 beans or less??? After a major detox?? No way Jose.
I downed the entire bag.
Then I looked at the package. 35 beans have 8 GRAMS OF FIBER!
Uh-oh.
Here are the ingredients:
Malitol, Malitol Syrup, Polydextrose, Modified Food Starch, Contains 2% or Less of the Following: Sucralose, Citric Acid, Natural and Artificial Flavors, Color Added, Red 40, Yellow 5 & 6, Red 40 Lake, Blue 2 Lake, Yellow 5 & 6 Lake, Blue 1, Tapioca Dextrin, Beeswax, Carnauba Wax, Confectioner's Glaze, Salt.
Look up Maltitol. Actally don't bother, I'll save you some time.
Here's a little tidbit that I found...
"Due to its slow absorption, excessive consumption of Maltitol can have a laxative effect and produce intestinal gas, bloating, and diarrhea. It is very easy for food producers to use it in vast quantities, due to its similarity to sugar, so consumers often end up ingesting far more than they could most other sugar alcohols. This means that maltitol is particularly associated with gastrointestinal upset."
I don't want to lose the few readers I have left with all the gory details, but let's just say, a large tablespoon of flaxseed followed by a chaser of sugar-free Jelly Bells is an UGLY combination. We're talking Depends ugly. It's a bad scene. TRUST ME.
Okay, let's change the subject....
I'm fleeing freezing cold Jersey tomorrow to head to The Sunshine State for a spell.
I will catch y'all when I return next week.
In the meantime, step away from the Jelly Bellys.
YOU HAVE BEEN WARNED.